Village of Sebewaing ready to welcome thousands to the 55th annual Michigan Sugar Festival June 13-16
By Rob Clark
Director of Communications and Community Relations Michigan Sugar Company
SEBEWAING, MICHIGAN – In the small Huron County village of Sebewaing, some folks call Michigan Sugar Festival weekend a homecoming.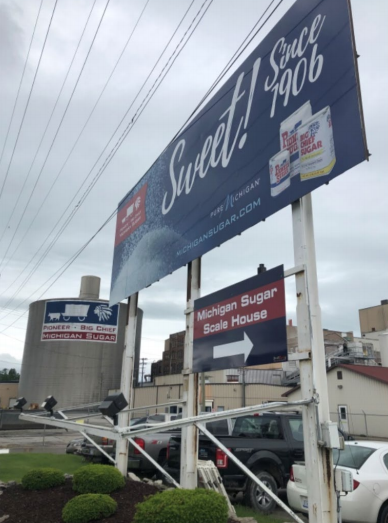 Many plan family and school reunions around the four-day event that celebrates the town's largest employer, Michigan Sugar Company, and the sugar industry. They've been growing and processing sugarbeets here since 1902 and today, the factory employs about 285 year-round and seasonal workers and produces about 260 million pounds of sugar annually.
A team of volunteers takes tremendous pride in putting together a schedule of events perfect for all ages – everything from a petting zoo, climbing wall and ventriloquist show to Cornhole, concerts and fireworks. Of course, a midway, chicken barbecue and the annual Sugar Festival Parade also are part of the fun.
Nonprofit organizations like the Lions Club, Rotary Club, Sebewaing Historical Society and area churches, come out in force to conduct annual fundraisers – selling bratwurst and concessions, hosting a 5-kilometer road race and serving up ice cream all in the name of enhancing the experience for the estimated 10,000 people who will descend on this community of about 1,800 residents.
This year marks the 55th anniversary of the festival, which took root in 1965 and continues to be a calling card for the community.
"The Michigan Sugar Festival is huge," says Julie Epperson, Sebewaing's Village President and co-chairwoman of this year's festival. "It's very nostalgic and it's just a huge, huge deal."
Epperson, who was elected Village President in November 2018, says the festival at one time attracted upward of 35,000 visitors. Organizers are working to make it that popular again.
"This is OUR sugar festival," Epperson says, noting other Michigan Sugar Company factory towns would love to host such an event. "We must continue to take pride in what we have. We host a couple other events each year that draw people here – like fishing and softball tournaments – but nothing like the Michigan Sugar Festival. This is our biggest event of the year."

From Beer to Beets
The name "Sebewaing" is derived from the Ojibwe word "ziibiiweng," which means "by the stream." Indeed, the Sebewaing River runs through the village, which measures less than 2 square miles. The Algonquian Native Americans were the first people to live on this land.
The village was established in 1845 by Rev. John J.F. Auch, a Lutheran minister, and many of the community's early settlers were German migrants. The first significant business venture in Sebewaing was the E.O. Braendle Brewery, established in 1880. Following prohibition, the company was renamed the Sebewaing Brewing Co. in 1927 and continued producing German- style beers until 1965. Some of those vintage brews have resurfaced in recent years thanks to the Michigan Brewing Co. in Webberville.
Sebewaing Brewing Company's legacy lives on through its logo – a pheasant – that to this day graces the sign at Sebewaing Village Park, where opening ceremonies for this year's Michigan
Sugar Festival take place beginning at 7 p.m. Friday, June 14. As part of the opening ceremonies, Michigan Sugar Company will crown its 2019 Michigan Sugar Queen.
Some folks in town say the Michigan Sugar Festival was actually started as a way to give something back to the community after the brewing company shuttered its doors.
Michigan Sugar Company's factory, located at 947 Pine St., remains one of the oldest sugarbeet processing factories in the United States and is the only Michigan Sugar factory to have run continuously since opening. Michigan Sugar Company also has factories in Bay City, Caro and Croswell.
This past season, 1.04 million tons of sugarbeets were processed at the Sebewaing factory during a 205-day slicing campaign that saw about 5,100 tons of beets sliced per day.
Local business owners know the importance of the sugarbeet factory to the community and welcome the opportunity each year to be part of a festival that pays tribute to Michigan Sugar.
"Let's just say that if Michigan Sugar Company wasn't here, my business would be very different," says Sam Khoury, owner of Sebewaing Market, located at 536 Pine St. in the shadow of the sugarbeet factory. "It would be horrible and not just for me. That sugar factory means income not just for the Michigan Sugar employees, but for me and every single business in town. We are all vulnerable to some extent to one bad year, so that's why we need Michigan Sugar Company to have a good year every year."
Khoury says he knows three-quarters of the workforce at Michigan Sugar's Sebewaing factory and he has designed his business in many ways to meet their needs.
"We close at 11:15 p.m., sometimes later, so the guys coming off shift change can stop in," he says. "The coffee business keeps us hopping, but we also added fresh sandwiches to our lineup because of the people who work at Michigan Sugar."
Khoury says Sebewaing's pride runs through the sugarbeet factory.
"You see a lot of people who work there who really care," he said. "It's a homegrown industry. Yes, it's an industry, but it's run like a family and they have been very good neighbors."

Meet the Grand Marshals
Perhaps few others in Sebewaing understand the impact of Michigan Sugar Company's presence better than Judy and Don Bollstetter.
Both Sebewaing natives, the Bollstetters own and operate Luke's Super Market at 8856 Unionville Road. Built in 1973, two year's after Don inherited the business from his father Luke, this is the community's grocery store and it is common for customers to be welcomed by name.
"Michigan Sugar puts a lot of stability in this area," says Don Bollstetter. "It's not just with employees, but with the farmers who own and grow sugarbeets for the company."
The Bollstetters were selected this year as the Grand Marshals for the Michigan Sugar Festival Grand Parade, which steps off at 10:30 a.m. Saturday, June 15. They'll be riding in a convertible near the front of the parade lineup, followed by nearly 70 other entries, including the Michigan
Sugar Company float carrying the new Queen and Court, as well as the company's horse-drawn Pioneer Sugar wagon.
"Being named Grand Marshal made me feel old in a way, but it's a tremendous honor," said Don Bollstetter.
"I was shocked," added Judy, who was crowned the second Michigan Sugar Queen in 1966 and has been lending a hand to the festival ever since, most notably as the maker of sugar crowns – yes, crowns made from sugar – presented each year to Michigan Sugar Festival royalty during the opening ceremonies. "We've lived here all our lives and owned a business … it's certainly a big honor."
A full story on the Bollstetters, written by Julie Epperson, is printed in this year's Michigan Sugar Festival program. It details a bit more of the history of Luke's Market, where Don Bollstetter began working at age 12 bagging potatoes. By 18, he was a meat cutter and today you're likely to find him in the produce department. He also served for 16 years on the Sebewaing Fire Department and is a
longtime member of the Sebewaing Chamber of Commerce.
Judy, maiden name Dressler, grew up on an 80-acre farm where her family grew sugarbeets. She graduated from cosmetology school in 1967 and in 1984 opened Nice Reflections Beauty Salon inside her home. Today, that business is carried on by her daughter, Traci. Judy later opened a housecleaning business.
As the festival program story goes, that's how she connected with Don. "I married the cleaning lady," Don says in the story.
Actually, Don and Judy already knew each other, but found love and were married on Valentine's Day 20 years ago. A second marriage for each, today they share five children and nine grandchildren.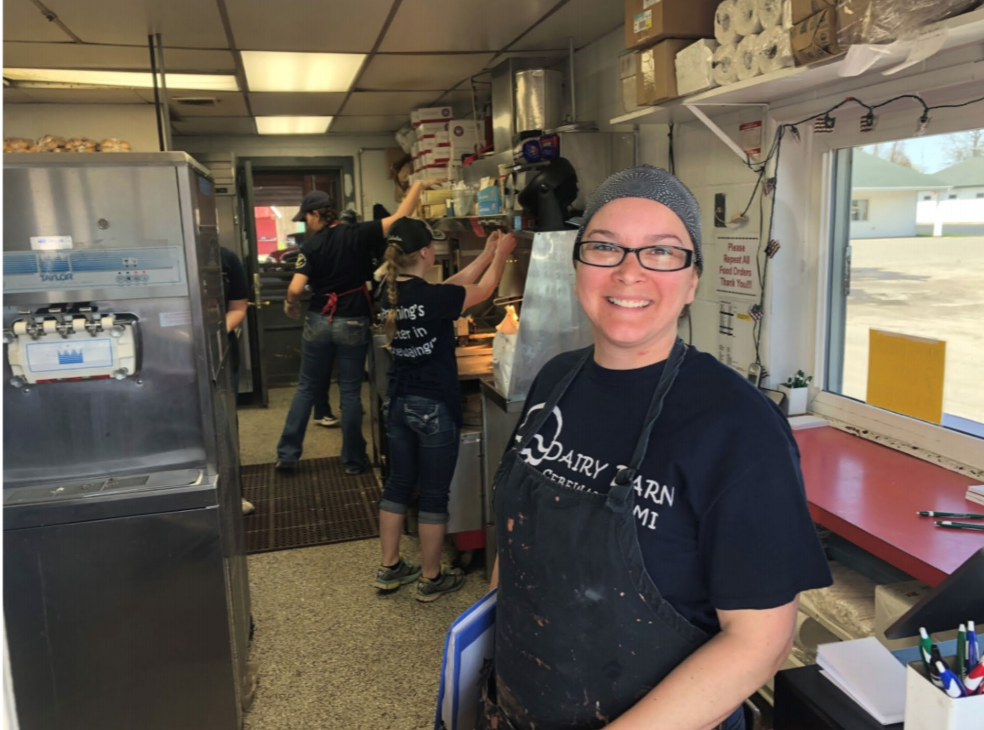 'Kind of a big deal'
Another former Michigan Sugar Queen, Mandy (Trischler) Kohl, who was crowned in 2001, is hoping for a huge turnout this weekend.
Kohl and her husband Ryan are grower-owners for Michigan Sugar Company and she also owns and operates the Dairy Barn at 634 S. Unionville Road. Known for its ice cream, burgers, broasted chicken and Coney dogs, Dairy Barn is celebrating its 50th season this year and Michigan Sugar Festival weekend is always a boon for business.
"I do generate a lot of business from the sugar festival," says Kohl, a 1998 graduate of Unionville-Sebewaing Area High School. "It brings people in and boosts our local economy."
Kohl said she's once again offering her "Sugar Festival Special" during this year's celebration – a footlong hotdog and small shake for $6.
"I'll probably go through 70 to 80 pounds of footlongs this weekend," she notes.
But if you really want something special, add the Coney sauce, she says. "People come from a long way to get our Coney sauce."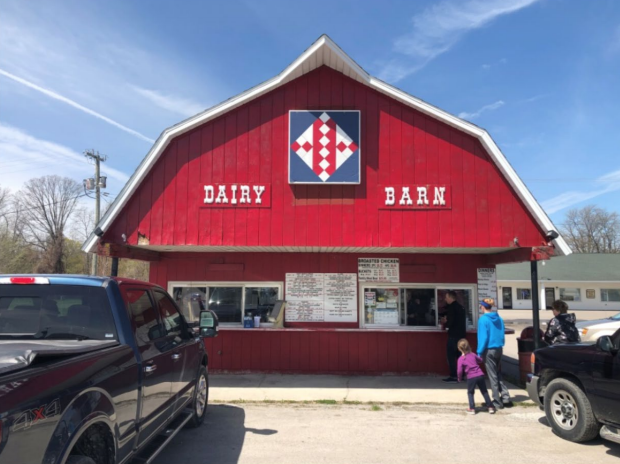 At the Dairy Barn, employees wear T-shirts that say, "Everything's Sweeter in Sebewaing." If you talk to the locals, they'll echo that sentiment, often shifting the focus to the importance of the Michigan Sugar Company factory.
"Michigan Sugar is good for the local economy," says Kohl, whose husband serves as treasurer of the cooperative's Central
District Board. 'It keeps people here. Some have gone away, but Michigan Sugar has remained, thanks to the farmers."
Kohl quickly reiterates that point, noting she was serving as the Michigan Sugar Queen in 2002 when Michigan Sugar Company's farmers inked a deal to buy the company and transform it into a grower-owned cooperative.
She takes as much pride in that as she does being from Sebewaing.
"Ryan and I both grew up here. We are established here. We know everybody. It's just part of our being and part of our soul," she says.
And asked about the significance of the Michigan Sugar Festival, she pauses, smiles, and simply states: "It's kind of a big deal."
Under the Beet Top
The 55th annual Michigan Sugar Festival kicks off Thursday, June 13, with the Skerbeck Family Carnival midway scheduled to open at 6 p.m. and a painting and wine sipping event called "Lushes and Brushes" set to run from 7-10 p.m. under the "Beet Top," the name given to the festival's main entertainment tent.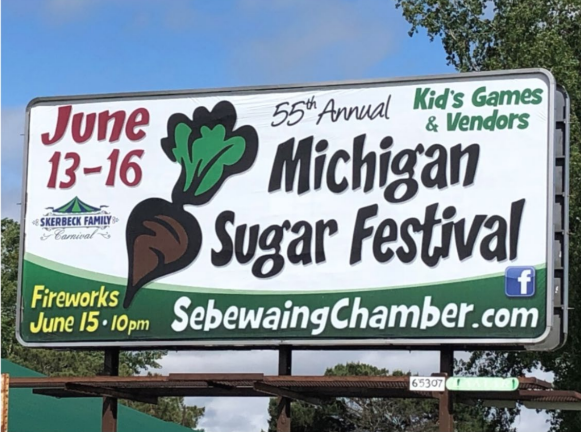 Melvin Kuhl, who serves as the festival's co-chairman and has been at the helm of the event for 14 years, says this year's event is sure to have "something for all ages."
Specifically, he notes a concert by the Justified Quartet, a gospel group, at 4 p.m. Friday, June 14; the annual Children's Parade set for 5:30 p.m. on Friday and a new event – a Foam Party with DJ – set from 8 p.m. to midnight Friday.
On Saturday, highlights include the Rotary Beet Feet 5K at 8 a.m., the annual Chicken BBQ at 10 a.m., a concert featuring pianist Michelle Kuhl at 4 p.m., a performance by the band Infamous Quick from 8 p.m. to 1 a.m. and the annual fireworks show at dusk.
Sunday begins with a non-denominational worship service at 10:30 a.m. at nearby Bay Shore Camp, a motorcycle show from noon to 3 p.m., a car rally from 1-4 p.m. and the Sebewaing Historical Society's Ice Cream Social from 2-6 p.m.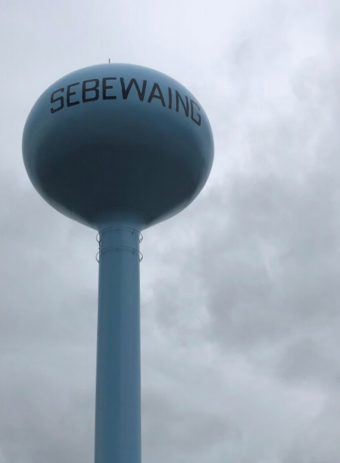 A full schedule of events is printed in the festival program.
"We have a nice family atmosphere," Melvin Kuhl says. "There are activities for the entire family."
Kuhl and Epperson, this year's co-chairs, say their dedication to helping plan the annual festival comes from a desire to make Sebewaing a sweeter place to live, work and play.
"When this started, it was to honor and recognize the sugarbeet industry and note how the Michigan Sugar Company factory impacts this community through jobs," Kuhl says. "It has grown into a true community
celebration and we take a lot of pride in that. The bottom line is this: if you are willing to get involved, you can make your community better."