Join the Michigan Sugar Company team
Michigan Sugar Company has sugarbeet processing factories in Bay City, Caro, Croswell and Sebewaing, and three distribution centers in Michigan and Ohio. Michigan Sugar Company has 930 year-round employees and an additional 1,100 seasonal workers.
We are Michigan Sugar
Want to know what it's like to work for Michigan Sugar Company? What better way to do so than to hear from our employees. From factory and packaging and warehouse workers to agriculturalists to researchers and those in our corporate office, we hope their words give you a better understanding of who we are.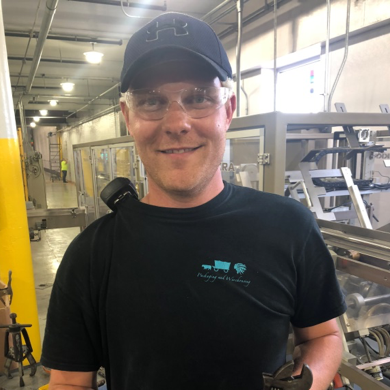 Scott Weisenbach of Essexville
Current job: Maintenance Crew Leader at Sebewaing factory
Scott has worked for Michigan Sugar Company since 2005, starting as a sugar end operator and later working as a silo attendant and mechanic. He is the son of Harold Weisenbach, who has worked at Michigan Sugar for 43 years. Scott said his job allows him to maintain a quality work-life balance so he has ample time to be with his wife Amanda and their two children. He noted the company's apprenticeship program as one of its strengths.
"Michigan Sugar Company wants people to reach their potential – as high up as your ability will take you. You can see the progression."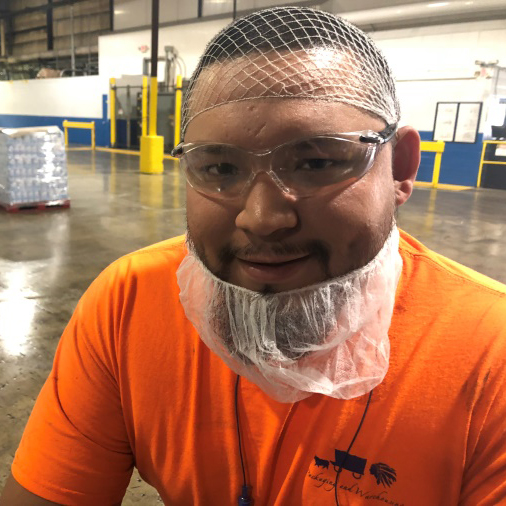 Current job: Agricultural General Foreman at Sebewaing factory
Joe planted his career with Michigan Sugar Company in 2013, working as a flumer. He went on to work as a Cleaner before moving into his current position in November 2019. Joe and his wife Loraine moved with their two children from Bay City to Sebewaing and Joe said he hopes to continue working for Michigan Sugar until he retires.
"I like many things about working here – the environment, the people and the opportunity to advance if you want to. Hard work and quality work is rewarded here. The supervisors are out on the floor quite a bit and will tell you when you've done a good job."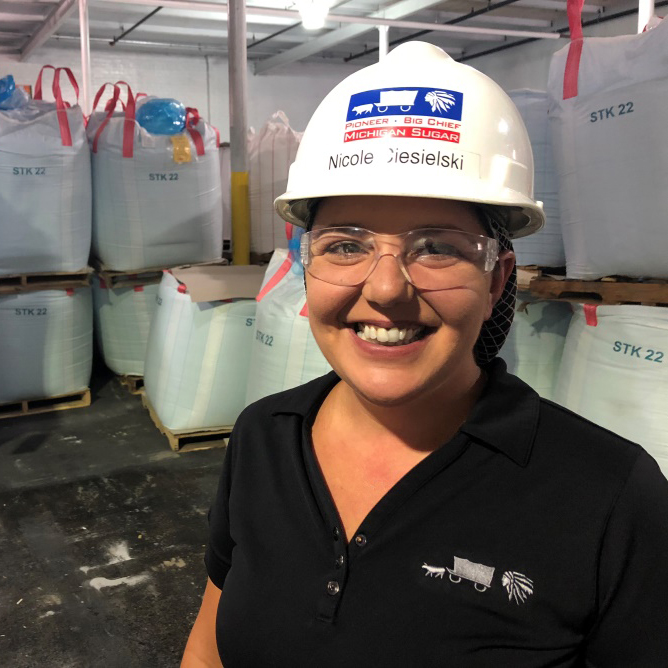 Nicole Ciesielski of Bay City
Current job: Warehouse Manager at Caro factory
Nicole planted her career with Michigan Sugar Company in 2008, working as a general sugar packer at the Bay City factory. She later worked as a shift supervisor at the Sebewaing factory before moving to the Caro factory in 2016. She said a common thread ties all of the company's locations together. "One thing that carries through at all locations is how much the employees become a family," she said. "The theme of 'everybody wants to do … the best job they can' really resonates throughout the whole company." Nicole's parents both grew up on farms where sugarbeets were grown. She remembers riding in the beet trucks and working in the fields and says those memories are constantly rekindled. "I really get that same level of excitement every day when I pull up to the gate here," she said.
"The people who work here have developed friendships that go way beyond working together. We're talking about second- and third-generation friendships in some cases. Their dads were friends, their grandpas were friends and now they're friends. That's why you see people work here for 30 to 40 years."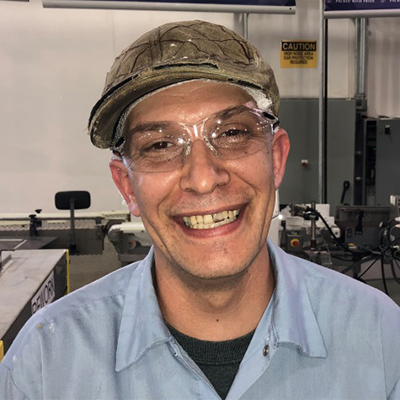 Rich Campbell of Sebewaing
Current job: General Packing Room Leader at Sebewaing factory
Rich started at Michigan Sugar in 2001 as a seasonal employee at the Meade Piling Station in Kinde, where he received sugarbeets. He now oversees third-shift production, which involves the packaging of white granulated and powdered sugar.
"One of the things I love about working at Michigan Sugar is the ability to work your way up and establish a career. I want to love and enjoy my life and have toys and buy a house. I've been able to do that here."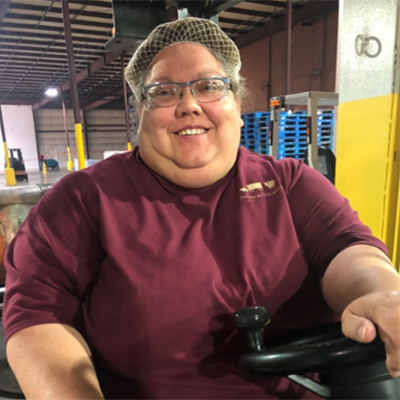 Shery Bedore of Unionville
Current job: Dock Fork Truck Operator, Sebewaing

Shery began her employment at Michigan Sugar Company in 1995. She said her work isn't easy, but that the challenge is rewarding. She also is grateful to work close to where her parents live in Unionville.
"I like coming to work every day and I enjoy the responsibility that comes with being the last point of contact with our product before it leaves our factory. I work very closely with my partners. There are only six of us in our department and we take a lot of pride in our group."

"It's like a family here."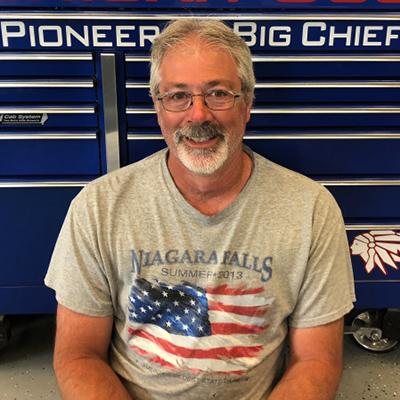 Current job: Agricultural A Mechanic at Sebewaing factory
If it involves maintenance to a piler, payloader, tractor or "any equipment outside the gates of the factory," Pat Terrill is on the job. He started with Michigan Sugar as an "extra" in 1983, taking on any daily task that was needed. He now refers to all the equipment he maintains as his "kids."
"It's my life now. Over all the years, this place has been good to me. I started here right out of high school (Reese High School) and it has been a good living."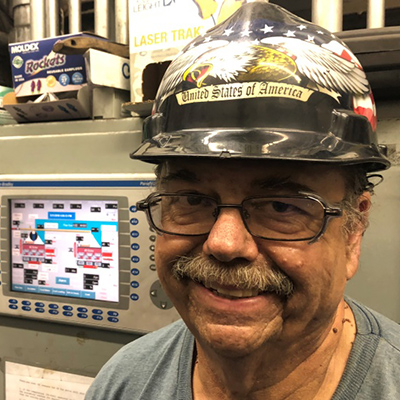 Dale "Woody" Wood of Unionville
Current job: Boiler House Operator at Sebewaing factory
You might say Michigan Sugar Company has become a family affair for Dale Wood, who began his employment in 1974 as a relief man. His son Brandon Wood has been a machinist for the company for 14 years and his aunt and uncle also worked for Michigan Sugar. "They would talk about the significance of this company in this town," said Wood, who is affectionately known around the Sebewaing factory as "Woody."
"This company taught me how to run boilers. Back in the day, we had floating gauges; now everything is computerized. I've learned a lot about mechanics, welding, computers and technology over the years. The work is interesting and challenging. I've always felt valued as an employee. They try really hard to make you feel valued."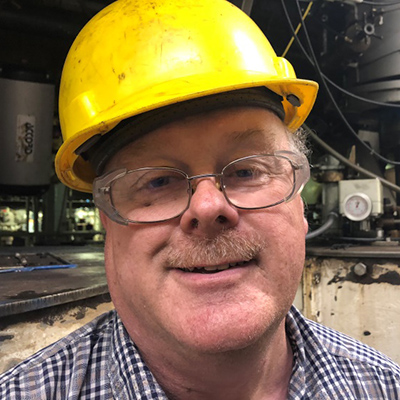 Current job: Assistant Storekeeper, Sebewaing

Don started with Michigan Sugar Company in 1977 and has worked throughout the years as a warehouse operator, crane operator and pay loader operator. Don is married to Benita and said the team at Michigan Sugar Company has become like a second family. He said that working with others has allowed him to grow as an employee and learn different aspects of the company.
"If you're curious, you can gain anything from Michigan Sugar. It's a gradual success."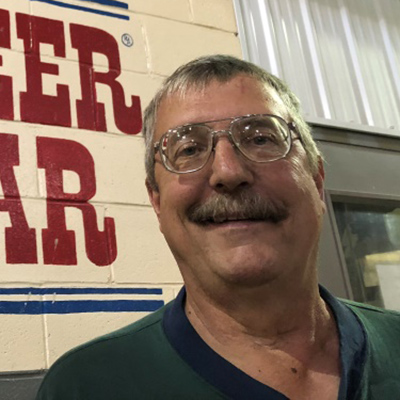 Current job: Electrician Instrumentation Supervisor at Caro factory
Jerry came to work for Michigan Sugar Company in 1994 as an electrician at the factory in Sebewaing. He moved to the Caro factory in 2003 and is now the master electrician for Michigan Sugar Company. He said he enjoys the nature of his work. "I've always been a science-oriented guy. This job is a way to use science, but still be hands-on. I like getting up every day and coming to work. I like what I do."
"The biggest thing I've enjoyed throughout my entire career is the camaraderie and family atmosphere. These are good people. Also, the company treats us very well. For a rural-oriented company, they match wages and benefits with the best of them."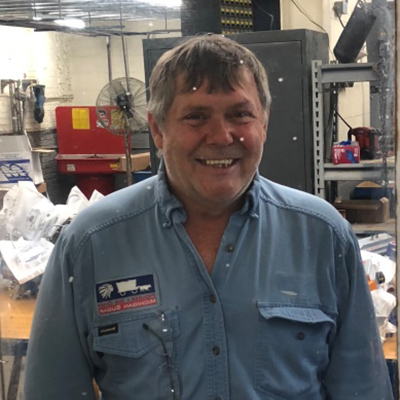 Current job: Electrician Instrumentation Technician at Caro factory
Dave grew up on a dairy farm and graduated from Caro High School in 1982. Today, he continues to run a beef cattle and cash crop farm. He started at Michigan Sugar Company in 1983 as a flumer. After leaving the company for a year in 1988, he returned to Michigan Sugar in 1989 at which time he went to school to become a certified welder. He said the company is very good about supporting opportunities for training. He took on his current job in 1998 and said he has a passion for instrumentation. "There is a great sense of pride when our equipment is fired up and everything is working," he said.
"This company is resourceful and if you have an idea and suggest something new, they're more than willing to listen and look at options. Your voice is heard."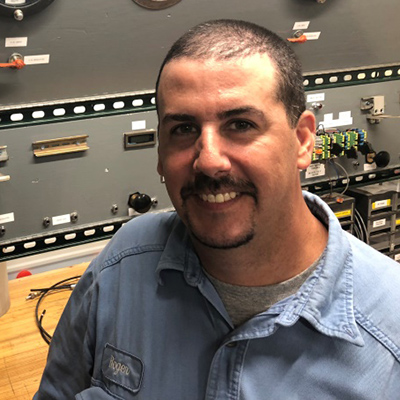 Current job: Electrician Instrumentation Technician at Caro factory
When he's not at work, you might find Roger on a local baseball field, where he is a volunteer coach for two different teams. Roger and his wife Deanna have two children and he said Michigan Sugar Company provides him the opportunity to have a healthy work-life balance. He started with the company in 2011 as a sample carrier in the laboratory in Caro and has gone on to work in a variety of other positions.
"Michigan Sugar Company paid for me to earn my associate's degree from Delta College as an industrial electrician. They paid for my school and my mileage; I didn't have to pay anything out of pocket. For them to do that was great. It shows that if you're willing to work for it, the company will invest in you."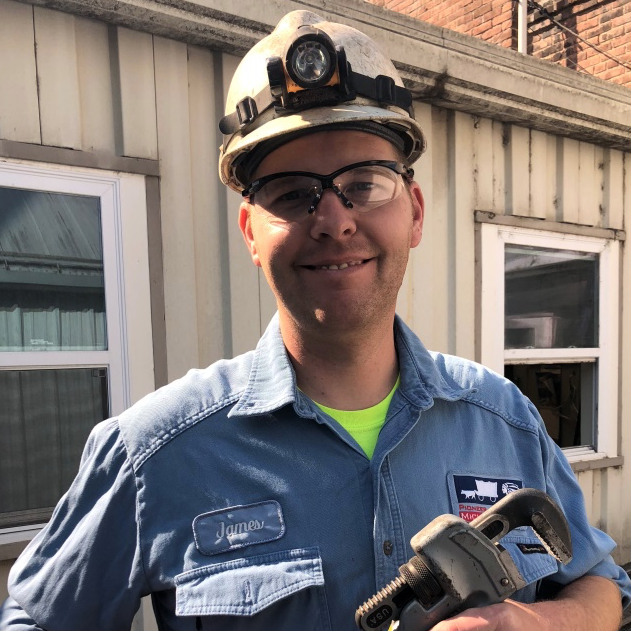 Current job: Machinist at Caro factory
When James is off duty from his job at Michigan Sugar Company, he is on duty as a volunteer firefighter for the City of Caro Fire Department. James joined the department in 2004 and now serves as captain. A 2002 graduate of Caro High School, James and his wife Amanda have two children. He joined Michigan Sugar Company in 2010 as a sugar end sweeper and later worked as a factory sweeper, yard leader, boiler house operator and shift maintenance crew leader.
"The people I work with are basically like family. A lot of us have become very good friends and we spend time together outside of work. As for my own family, Michigan Sugar Company has provided us with opportunities and the ability to be financially stable."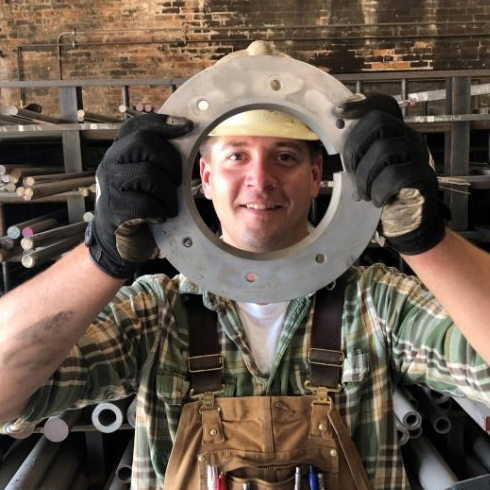 Current job: Maintenance Superintendent at Caro factory
Chad graduated from Caro High School in 2002 and started with Michigan Sugar Company in 2004. He and his wife Maggie have two children. Chad said one thing that has struck him about working at Michigan Sugar is the level of investment the company is continually making at its factories. "The company is always making investments in terms of the well-being of the plant and the equipment."
"This is a good way to make a living. It's close to home, the benefits are nice, the insurance is nice and they offer a 401(k). I can't go anywhere else and make what I make here with the benefits."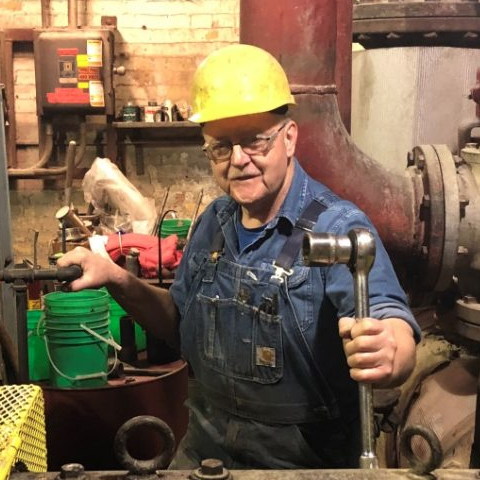 Current job: Shift Maintenance Crew Leader at Caro factory
Jim came to work for Michigan Sugar Company as a crane helper in 1970 after graduating from Caro High School. "I shoveled coal and cleaned out coal cars," he said. He took on his current role in 1988 and says he has seen a lot of changes over the years – from steam-driven equipment and belt drives to today's computerized machines. "Everything has pretty much changed," he said. "We've come out of the dark ages into the world of technology."
"This job has been challenging and I like that. There's bull work and brain work. One day, you could be pouring concrete and the next doing something that requires deep thought. Where else would I go to have all the experiences I've had?"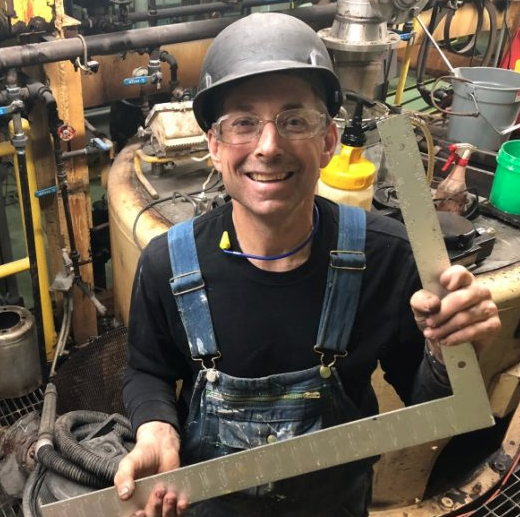 Current job: Sugar End Leader at Caro factory
Ross has been with Michigan Sugar Company since 1983, starting in packaging where he filled 100-pound bags of white granulated sugar. A graduate of Cass City High School, Ross said what he likes most about working for Michigan Sugar is the strong connection employees have to one another. "When we're working together, we're looking out for each other. People care deeply, not only about the job, but about each other," he said. "It's nice to come to work when you know you have that."
"I really like working here and I like what I do. I act like this factory is my house. I have pride in it. When new guys come in I tell them, 'This is my house.' I want them to understand why I work so hard to do things the best I can."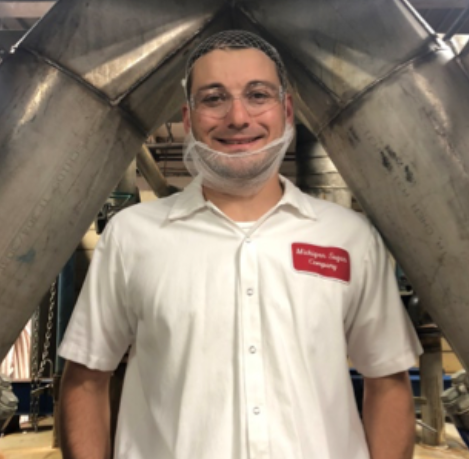 Current job: Warehouse Mechanic at Caro factory
Fabian graduated from Caro High School in 2002 and moved to the Detroit area shortly thereafter. He worked a variety of jobs before landing at Michigan Sugar Company in 2012, working as a sugar end sweeper. He went on to work in a variety of other positions throughout the factory."
"These aren't my co-workers, these are my friends. When I first started, it was very welcoming. We take pride in what we do in Caro. We're the oldest and the smallest. We always look at numbers during the campaign and take pride in Caro having the highest extraction rate."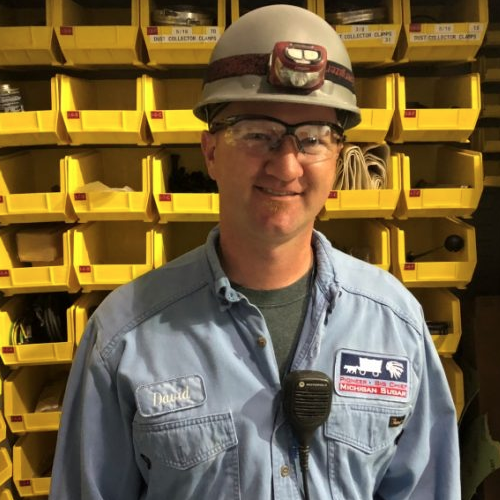 David Fischer of Sebewaing
Current job: Asset Systems Manager, Corporate

David says he knew he'd work as an electrician since the day he graduated from North Huron High School in Port Austin. He was hired by Michigan Sugar to work in the company's Sebewaing factory in 2011 and became a Warehouse Electrician Instrumentation Technician in Caro in 2016. He has been in his current position for a couple years now. He said he deeply values having consistent employment. Before coming to Michigan Sugar, his job often required him to work out of town for extended periods of time, during which a hotel room became his residence. "The stability here is really great," he said. "I feel safe because we are steady throughout the entire year."
"Michigan Sugar Company is the kind of place where you're the third or fourth generation from your family who worked here, or you had an uncle work here, or somebody. It's like that's what the people of this area were born to do – to work for Michigan Sugar. This place is the kind where you say, 'I'm going to retire from here.' I've got 30 more years. I love it here."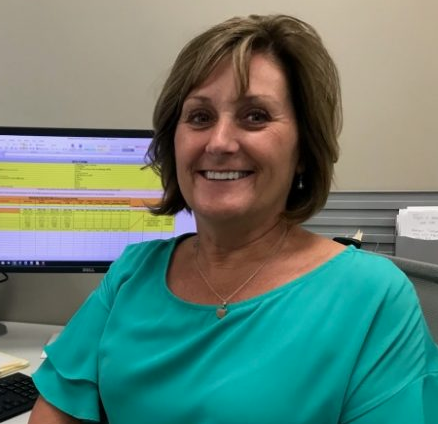 Tricia DeGroat of Saginaw
Current job: Customer Service Manager at Corporate Headquarters in Bay City
Tricia started at Michigan Sugar Company in 1988 as an accounts payable clerk. She worked for approximately 10 years before leaving to raise her children. In 2008, she returned to the company. "I love people – my co-workers and the customers," she said. "My co-workers are like family. I've known many for years."
"Because Michigan Sugar Company deals in a food commodity there always is a sense of job security. It's also exciting working for a company where you can see the product go from seed to the store shelves. The pay is competitive and there are always opportunities for growth."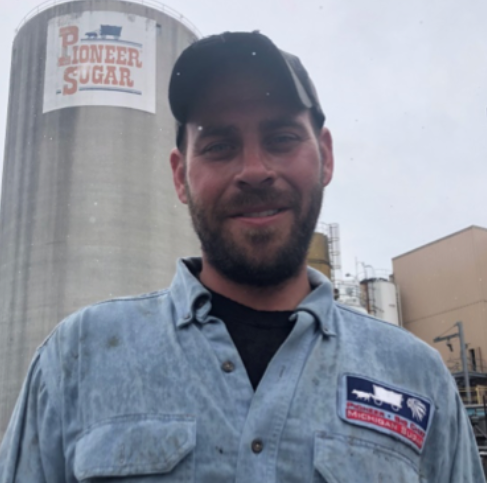 Current job: Welder at Croswell factory
As a junior in high school, Jason Snear had just turned 18 years old when he sought out what was supposed to be a temporary job at the Michigan Sugar Company piling station in Sandusky. He'd go on to graduate from Deckerville High School in 2009 and all these years later, he's still going strong – following in the footsteps of his father Ken Snear, who worked as a mechanic in Sandusky. Jason moved to work at the Croswell plant in 2017 and said he is happy to have turned that once-temporary job into a career that supports him and his wife Brandy and their two young children.
"Every day is kind of different. I'm always moving here and I'm never just doing one thing constantly. It seems like you're always learning from all the different people you get to be around. I like always making something a little better."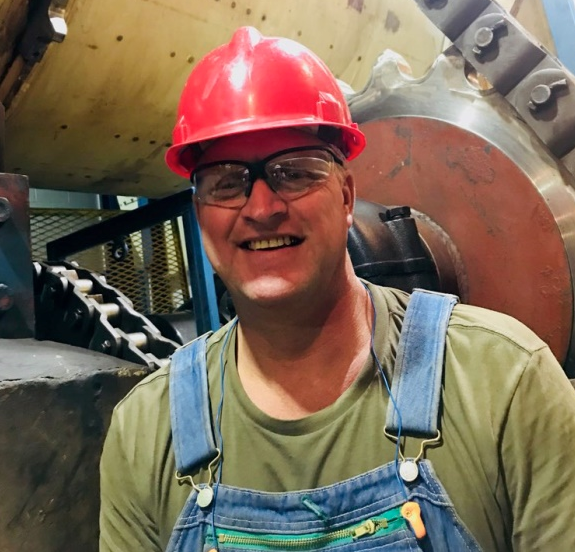 Daniel Schwab of Bay City
Current job: Sugar End Foreman/Inter Campaign Mechanic at Bay City factory
Daniel began his journey with Michigan Sugar in 1984 working as a Beet End Foreman. He spent 22 years working in that position before taking on his current role with the company. Daniel is proud to be able to support his wife and two children thanks to his job with the company and plans to retire from Michigan Sugar. He said the company has a family based atmosphere that has helped him develop and grow friendships with many of his co-workers.
"I love working with the equipment and the guys. Makes the days go by so good. They've been good to me here."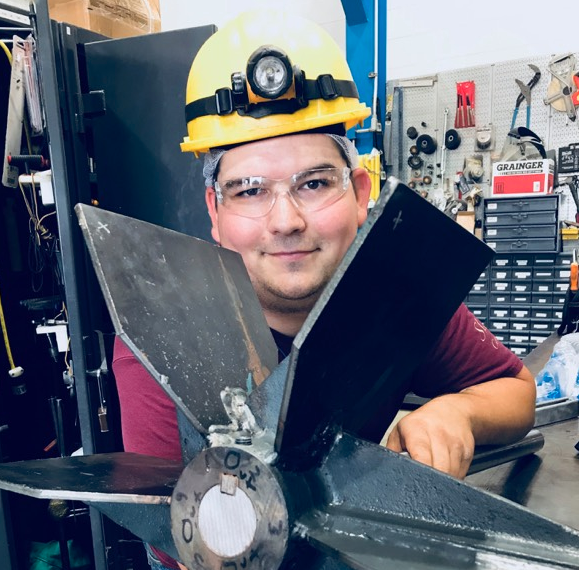 Robert Belchak of Pinconning
Current job: Mechanic in P&W at Bay City factory
Robert planted his career with Michigan Sugar in 2010 and has worked as a general laborer, beet truck driver, waste loader operator, sample carrier, general sugar packer, silo attendant, specialty operator, team leader and P&W mechanic. He was given the chance to join the mechanic apprenticeship program at Delta College and he completed his training in December 2019. He said Michigan Sugar Company is very family oriented and great place in which to form friendships. He said the supervisors are always understanding and helpful and make work fun.
"Michigan Sugar has given me the chance to grow and advance. They gave me the opportunity to attend school and take care of the financial burden of it."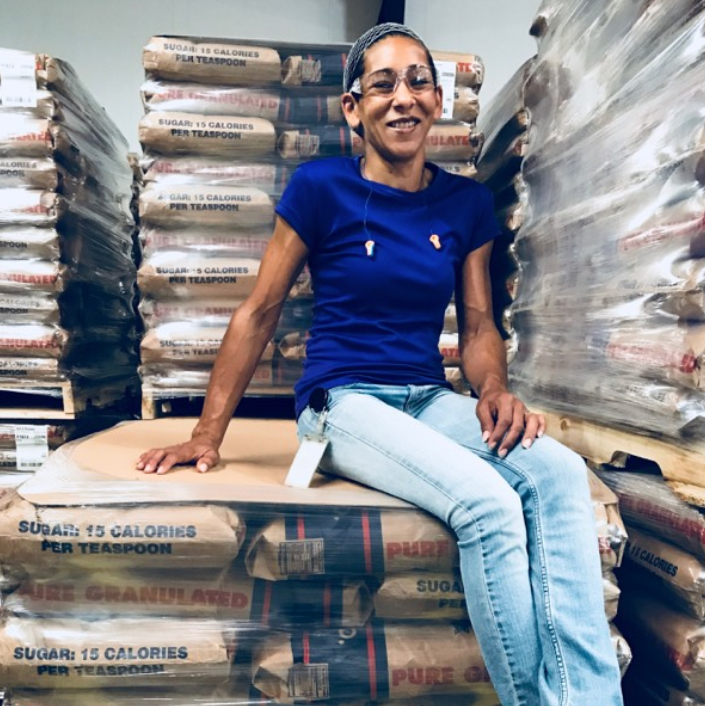 Rachel Schatzer of Bay City
Current job: Product Distribution Technician at Bay City factory
It turns out you can go home again. Shortly after moving with her family from San Francisco in the mid-1990s, Rachel Schatzer worked for one year in the tare room at the Bay City factory before leaving to pursue other opportunities. But, in 2011, she found her way back to Michigan Sugar, working as a general sugar packer and then as a dock operator before moving into her current position as a product distribution technician. She loves the fact that her job duties are not repetitive and how much she has seen Michigan Sugar grow over the years. She said the company's commitment to giving back to the communities it serves is very important to her.
"Michigan Sugar gives you the opportunity to move up. Take the chance. Embrace it and do it."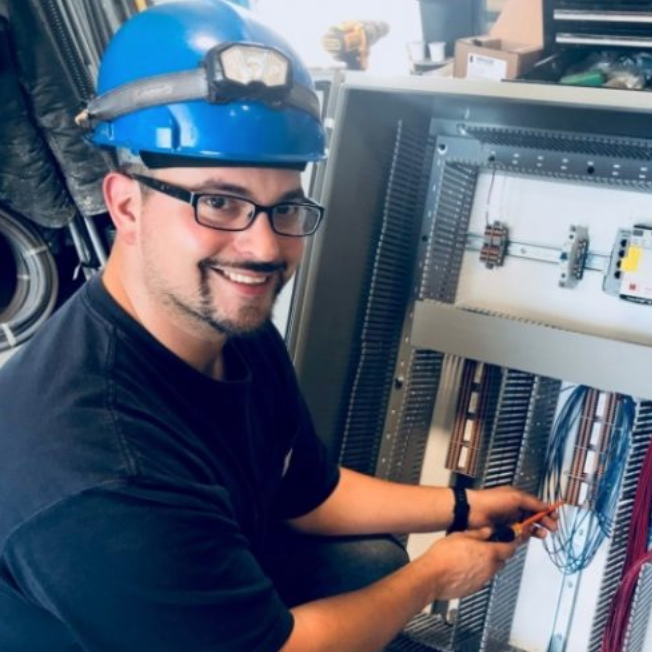 Current job: Controls Supervisor at Bay City factory
Mark started his journey with Michigan Sugar in 2008 as a general laborer. Two years later, he jumped at the opportunity to go to school to become a mechanic. After working for four years as a mechanic, he accepted another opportunity to train as an electrician apprentice. That led him to a new position and a new outlook on his career. He said his willingness to learn and become something greater took over and he saw his profession as more than just a job. He Applauded Michigan Sugar Company for wanting to see its employees succeed.
"Michigan Sugar is a gateway to opportunity. Knowledge, success and friendships are created here. Anyone looking for a career, I highly advise you tour Michigan Sugar."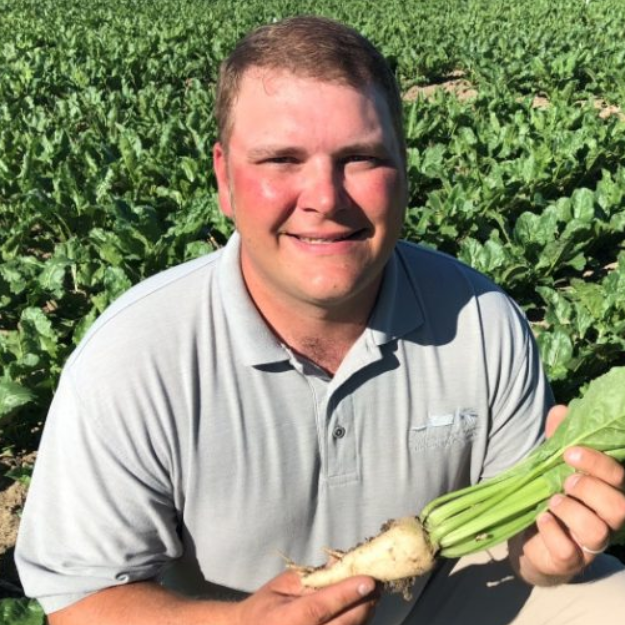 Current job: Agriculture Research Manager
Brian grew up on a Bay County farm where sugarbeets were grown and began his professional career working in research and product development for the automobile industry. In 2009, he found his way to Michigan Sugar Company and was able to combine the professional skills he had developed in the auto industry with the knowledge he had gained growing up on a farm. "It was a natural transition," he said. In his current role, he oversees completion of agriculture research trials and manages research department staff. "I really like the diversity of what we do," he said. "Every day is different. We have 100 acres of research trials and a really good crew of people we couldn't do this without."
"I have a lot of friends and neighbors who are sugarbeet growers. Anything I can do to help them is rewarding to me. We're always trying new and different ways to increase the efficiency of our growers and help them have a successful crop."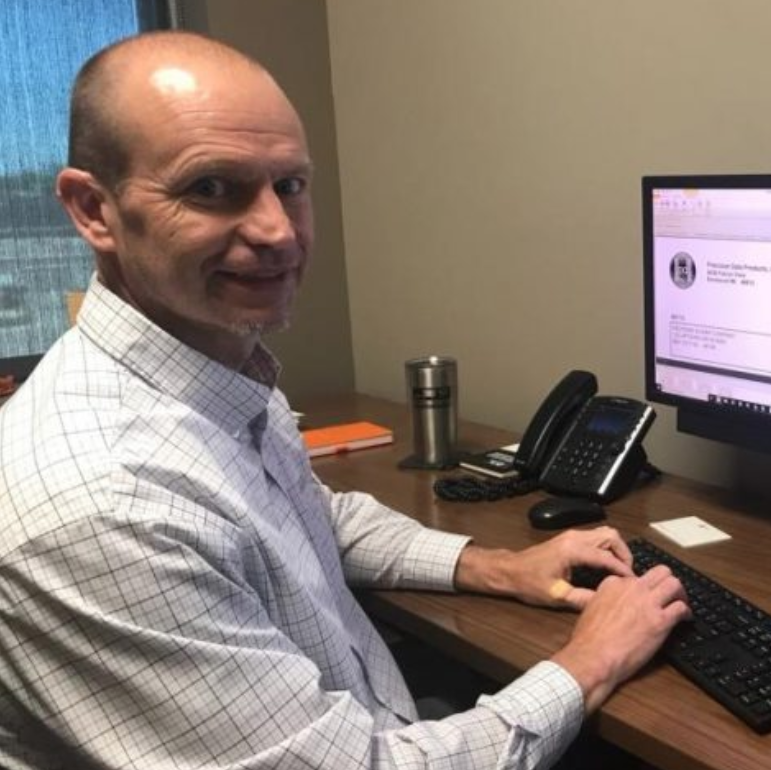 Current job: Systems Analyst

Don says there was a time in his life when he did a lot of "job hopping." That was before he came to Michigan Sugar, where a friend and colleague told him, "Once people come to Michigan Sugar, they don't leave." Don knows there was truth in those words. He has now been with Michigan Sugar for 18 years. He spent the first 12 years as a programmer analyst, then worked as Director of Information Technology. He took on his current role in 2020. Don is proud to say that throughout his years with the company, he has been encouraged to participate in family activities and attend his daughter's events. He said Michigan Sugar provides a family atmosphere that creates a tight bond between all departments.
"Michigan Sugar is a place to call home. This is where you plant the roots and grow."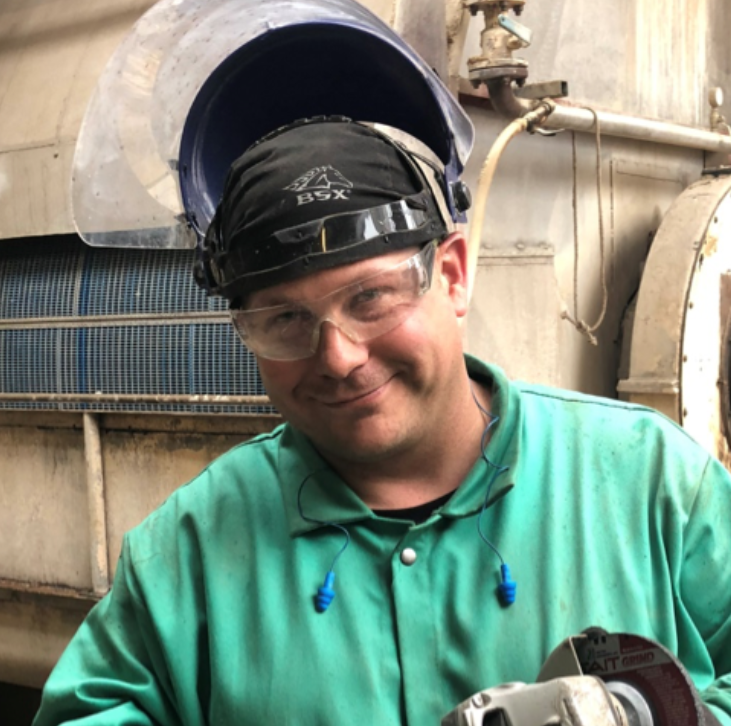 Current job: Shift Supervisor at Croswell factory
Mike Bales is a busy guy. Aside from his full-time job as a Shift Supervisor at Michigan Sugar Company, he serves as a lieutenant for the City of Croswell Fire Department, helps at his family's business, Croswell Greenhouse and is father to a 13-year-old daughter. He said he is grateful Michigan Sugar Company provides him and four other employees who are firefighters with the flexibility needed to serve the community. "There is flexibility to do both, especially in the summer when the company allows us to leave work if there is a fire call," he said. "That's important, especially in a small town." Mike works at the Croswell plant along with his two younger brothers, Matt and Tim. His father Stephen Bales, who serves as Croswell's fire chief, also worked at the plant. "I think everybody in town has worked here at some point," he said
"This is a good place to work. This is my home and I want to see the community and the factory do well."