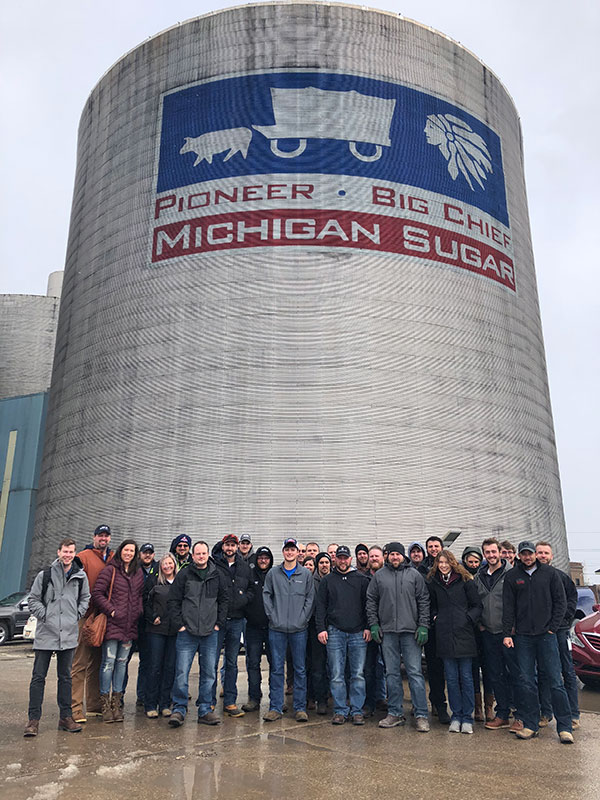 Now, more than ever, it is crucial that we encourage and develop the next generation of sugarbeet growers to sustain our industry for the future.
Michigan Sugar Company's Young Farmer Program provides a forum for young sugarbeet growers between the ages of 18 and 40 who are interested in learning more about the sugar industry and Michigan Sugar Company. The Young Farmer Program gives growers of a similar age the opportunity to develop leadership skills, network with other young farmers and discuss current and common issues.
This program is open to
All Michigan Sugar Company sugarbeet shareholders
Individuals (son, daughter, niece, nephew, hired help) sponsored by a shareholder.
The YF Program gives young farmers the opportunity to participate in activities designed to help them gain a better understanding of our cooperative, as well as learn how to become more successful sugarbeet growers and future leaders in our industry.
Young Farmer events
The Young Farmer Program Committee is always open to new ideas for networking and learning opportunities. Past events have included beer tasting, bowling, golf outings and breakfast events.
Our main goal is always to help young farmers learn and grow in the sugar industry, so we strive to bring relevant, worthwhile content and topics to each event. If there is a topic you are interested in hearing about, please let us know!
Upcoming events:
SAVE THE DATE: Wednesday, June 16 – Young Farmer Golf Outing at Vassar Golf & Country Club, 3509 Kirk Road, Vassar, MI 48768.