Michigan Sugar Company is proud to offer several scholarships to students in our sugarbeet growing areas. Some scholarships are administered by Michigan Sugar Company while others are administered by separate businesses or colleges.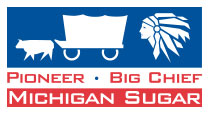 ALBERT FLEGENHEIMER MEMORIAL/NEXT GENERATION SCHOLARSHIPS
The Albert Flegenheimer Memorial Scholarship was initiated by Michigan Sugar in 1974 in memory of Albert Flegenheimer, Chairman of the Board from 1963 to 1970. The scholarship consists of an award of $2,500 to the student's account at the college of choice for a high school senior who has successfully completed a Youth Sugarbeet Project.
The Next Generation Scholarship commenced in 2013 and is awarded to the runner-up of the Albert Flegenheimer Memorial Scholarship. The $1,000 scholarship shows our ongoing commitment to the future sugarbeet growers.
MICHIGAN SUGAR QUEEN SCHOLARSHIP
Each year, Michigan Sugar Company offers young women, between the ages of 18 – 23, an opportunity to represent the company and industry by serving as the Michigan Sugar Queen and Court. A total of $4,000 in scholarships is awarded to three individuals each year at the Michigan Sugar Festival.
MICHIGAN SUGAR EMPLOYEE SCHOLARSHIP
The Michigan Sugar Company Employee Scholarship was established in 2014 to support and honor our employees and their families. The need to acquire additional skills after high school, be it vocational school or college, is extremely important. Through this scholarship, Michigan Sugar Company hopes to show its commitment to continuing education while encouraging family members of our employees to achieve post-high school education. Two $1,000 scholarships will be awarded each year to a son/daughter or grandson/granddaughter of employees from Michigan Sugar Company. The scholarships will be awarded annually and administered by the Saginaw Community Foundation. To apply, go to http://www.saginawfoundation.org/site/michigan-sugar/.
CENTRAL DISTRICT SCHOLARSHIP
The Central District Scholarship is funded by donations from the members of the Central District Board of Michigan Sugar Company and the Central District Grower Members. Up to two $500 scholarships are awarded to two deserving high school seniors, or college first-year students, who have participated in the Michigan Sugar Youth Sugarbeet Program for a minimum of one year and completed a sugarbeet project. Applicants must live in the Central District of the Michigan Sugar Company growing area. A written essay must be submitted by March 31 (see Requirements for details and application).
MICHIGAN SUGAR COMPANY ANNUAL SCHOLARSHIP AT NORTHWOOD UNIVERSITY
The Michigan campus of Northwood University administers this scholarship on behalf of the Michigan Sugar Company. The $1,000 scholarship provides monies to deserving students majoring in any of the following courses of study: hospitality, business management, operation and supply chain, marketing, advertising, finance and accounting. Awards for the scholarship will be based upon demonstrated financial need and academic merit. Preference will be given to students from an agricultural background. For an application, please contact the Northwood University Financial Aid Office at 4000 Whiting Drive, Midland, MI 48640; (989) 837-4230 or click here for Northwood's Financial Aid Website.
THE BRIAN FOX MEMORIAL AGRICULTURE SCHOLARSHIP
The Brian Fox Memorial Agriculture Scholarship is administered by the Ontario Sugarbeet Growers' Association (OSGA), for qualifying students from Lambton or Kent County (Ontario) entering an agricultural post-secondary field of study (other qualifications may be required). The scholarship award will be in the $2,000 range. Please contact the OSGA at P.O. Box 150 Stn Main, Wallaceburg, Ontario N8A 4L5, or email admin@ontariosugarbeetgrowers.ca for information on how to apply.
THE LOREN HUMM MEMORIAL SUGAR BEET GROWER'S SCHOLARSHIP
The Loren Humm Memorial Sugar Beet Grower's Scholarship is administered by the Gratiot County Community Foundation, for Gratiot County students who are from a family of sugarbeet growers, and have completed a 4-H project related to sugarbeets (or required documentation by a 4-H/FFA advisor and/or agriculturalist). Applicants must also have at least a 3.0 GPA. The amount of the award will vary from year to year. Interested applicants should check with the scholarship administrator for more details, or visit their website at www.gratiotfoundation.org/1/280/scholarships.asp.
BETASEED SCHOLARSHIPS
Betaseed, Inc., has awarded these scholarships since 2010 as a thank you to the communities and growers for their loyalty to, and partnership with, Betaseed. Betaseed believes that sugarbeets will continue to be one of the driving engines of Michigan's local economies, so it is absolutely essential that future generations of sugarbeet growers remain engaged in the industry. Betaseed awards three $1,000 scholarships to qualifying high school seniors; one scholarship in each of the three Michigan Sugar Company growing districts.
SYNGENTA SCHOLARSHIP
Syngenta and its legacy companies have a long history in the sugarbeet industry, and since 2010 they have been investing in the future of the industry with their Syngenta Sugarbeet Scholarship Program. Five $1,500 scholarships will be awarded to ag-focused students in sugarbeet-growing regions of the U.S. to use toward their fall college education. These students must also be involved in 4-H, FFA and/or the sugarbeet industry.
"AMERICA'S FARMERS GROW AG LEADERS" SCHOLARSHIP
America's Farmers Grow Ag Leaders, sponsored by the Bayer Fund, is again giving students the chance to earn a $1,500 scholarship in an ag-related field of study, with more than a half-million dollars in scholarships available. Grow Ag Leaders scholarships are available to students in rural communities residing in eligible counties across the United States. High school seniors and college students can visit www.americasfarmers.com/grow-ag-leaders/ to learn more about the scholarship and may apply online through February 1 at FFA.org/scholarships.